Bird Watching Holidays Algarve
The Algarve has an incredible variety of birds and there are many places where you can find them, not just at the bird sanctuaries. The Ria Formosa is the most important birding conservation site in the Algarve. It covers 60km of coast and comprises large areas of dunes and lagoons, channels and islands, saltpans, pools and river mouths. The Ria Formosa is of great importance for a wide range of breeding, passage and wintering birds.
Little Bittern and Purple Heron both breed as well as Egrets, White Stork and Stone Curlew. In the spring breeding Red-Crested Pochard and Purple Gallinule are easily seen. The Purple Gallinule is a huge rail, larger than a chicken, brilliantly coloured with an enormous red bill. Swallows, Swifts and Martins are abundant during spring with many Pallid Swifts and Red Rumped Swallows to be seen in nearby Loule.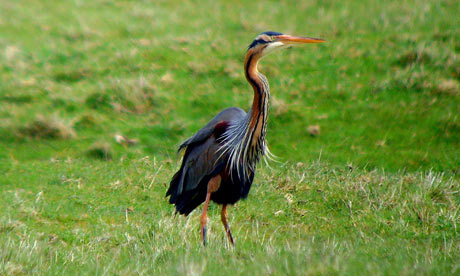 A drive north to the area of Alentejo is another fantastic birding area, particularly between the towns of Mourao, Moura and Barrancos. Species found in this area include Red, Black and Black-shouldered Kites and Montagu's Harrier. The rockier areas near Barrancos have Egyptian and Black Vultures, Short-toed and Booted Eagles and small numbers of Spanish Imperial and Golden Eagle. Blue Rock Thrush, Crag Martin, Rock Sparrow and Rock Bunting can be found in the gorges.
Also well worth a visit is Cape St Vincent – Ponta de Sagres. These two headlands lie at the furthest south-west tip of the European mainland and can be reached in just over one hour.
We cover all parts of the Algarve on our bird watching tours and you will be escorted by an English speaking guide. So why not join us and take advantage of our knowledge. If there are particular species that you want to see we will do our best to find them for you. Join us for a day, or every day for a week, you choose, we will be as flexible as we possibly can.
Prices from €35 per person. Package holidays also available from €700 per person, week including accommodation and daily tours.
For more details please contact Themed Holiday Ideas.
Contact Us
Contact information
Themed Holiday Ideas
Tel:+44 01223968053