Bird Watching Holidays Cyprus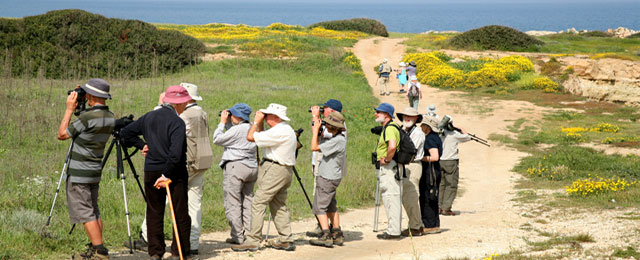 Cyprus lies on one of the major bird migration routes across the Mediterranean. With Africa to the south, Turkey and central Europe to the north, and Syria and the Middle East to the east, Cyprus is a major staging post used twice a year as birds move between Africa, Europe and Euro-Asia. Almost 200 species occur as regular passage migrants, while another 20 or so occur irregularly. 2 species are currently recognized as endemic; the Cyprus Wheatear and the Cyprus Warbler and both are migratory. The Island also has 5 sedentary subspecies, Scoop's Owl, Coal Tit, Short-toed Treecreeper, Jay and Crossbill.
Probably the best time to visit Cyprus is in the spring when, in addition to the hordes of migrants in their readily identifiable breeding plumages one can also see the resident and summer breeding visitors. Spring migration starts very early, by the end of February Great Spotted Cuckoo are numerous and the first Isabelline Wheatear are passing through. Early March sees the first Hoopoe and by the end of this month larks, hirundines, pipits, wagtails, warblers and buntings are in super abundance. Wryneck can be very common and Nightingale seem to pop out from every piece of low vegetation, quite happy to hop on the ground in front of you, quite different behaviour from that observed on their breeding grounds. April is the prime month if you want the largest total of species, particularly the middle 2 weeks. Some of the winter visitors will probably still be hanging on, the migrant breeders will have arrived, including Black-headed Bunting, which is probably the latest arrival and the flocks of European migrants are streaming through; magic! It is also now that most vagrants occur as well!
We offer bird watching tours with English speaking guides who have a wealth of knowledge about the local area. If you wish to take a tour for one day, or a whole week, we have many different itineraries all at affordable prices and in many areas on the island. Themed Holiday Ideas also offers a "Direct from Owner" rental opportunity in the areas our themes are taking place. For details you can find properties on our home page and the search property box facility, or simply fill in the contact form below stating your requirements including dates, and number in the party.
We look forward to finding you that perfect Cyprus Bird Watching Holiday!
Contact Details:
Contact information
Themed Holiday Ideas
Tel:+44 01223968053