Golf Courses (Algarve) Portugal
Golf  – The Algarve
The Algarve is the perfect golf region. With sunshine almost all year long, and approximately 40 golf courses, it is not hard to see why the Algarve is still as popular as ever. An increasing number of superb golf courses, designed by renowned architects with superb lay-out, plus great value accommodation, offered by Themed Holiday Ideas, means that we can now offer the perfect golfing holiday!
Portugal is a mere two to three hours flight from most European capitals, and has been a magnet to many discerning golfers for almost three decades.  Portugal's southernmost province is famous for its spectacular scenery along a fabulous rugged coastline.
The main golf season is from late autumn to late spring.  Winters are mild and golfers from northern European countries can enjoy warm, sunny days and keep their swings smooth at a time when their home courses are unplayable.
It was the legendary Henry Cotton who put the Algarve on the golf globe.  In the mid-sixties, at Penina, he designed the first proper grass course.  It was the first of three he designed in the Algarve, a place he loved and made his home for almost 30 years.
Please contact us for more details regarding any of the golf courses shown below including reduced green fees.
01 – Alamos Golf
02 – Alto Golf
03 – Balaia Golf Village
04 – Benamor Golf
05 – Boavista Golf
06 – Castro Marim Golf Atlantic
07 – Colina Verde
08 – Espiche Golf Course
09 – Faldo Amendoeira Golf
10 – Golf Santo António
11 – Gramacho
12 – Laguna Golf Vilamoura
13 – Millennium Golf Vilamoura
14 – Monte Rei
15 – Morgado Golf
16 – O'Connor Amendoeira Golf
17 – Oceanico Academy Course
18 – Palmares Golf
19 – Penina Championship
20 – Penina Resort & Academy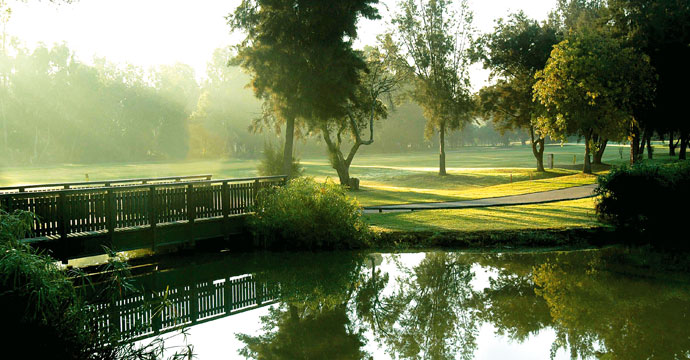 21 – Pine Cliffs Golf
22 – Pinhal Golf Vilamoura
23 – Pinheiros Altos
24 – Quinta da Ria
25 – Quinta de Cima
26 – Quinta do Lago Laranjal
27 – Quinta do Lago North
28 – Quinta do Lago South
29 – Quinta do Vale
30 – Salgados
31 – San Lorenzo
32 – Silves Golf Resort
33 – The Old Course Vilamoura
34 – Vale da Pinta
35 – Vale de Milho Golf
36 – Vale do Lobo Ocean Course
37 – Vale do Lobo Royal Course
38 – Victoria Golf Vilamoura
39 – Vila Sol Golf
Contact Us
Themed Holiday Ideas
Phone: +44 (0)1223 968053